-->
Calendar
Art Murmur After Party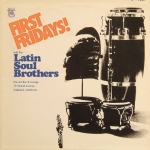 TODAY
Friday 12/6/13
8:00pm to 1:30am
Join Era as we present the Latin Soul Brothers. Won Way and Joe Quixx after the Oakland Art Murmur.
Private Event
TOMORROW
Saturday 12/7/13
6:00pm to 9:00pm
Closed for a private event from 6-9pm. For private event inquiries please email: events@oaklandera.com
TEXTURE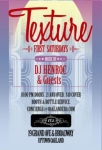 TOMORROW
Saturday 12/7/13
9:00pm to 1:30am
ERA ART BAR & LOUNGE PRESENTS:

TEXTURE 1ST SATURDAYS

Music Reaching Forward

w/ DJ HENROC + Guests

ERA ART BAR & LOUNGE

19 Grand Ave @ Broadway

Uptown Oak

10pm Doors

$10 Cover

Booth & Bottle Service:

concierge@oaklandera.com
Weekend Love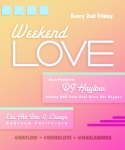 Friday 12/13/13
10:00pm to 1:30am
WEEKEND LOVE Every 2nd Friday 10pm to 1:30am $10 cover

No feeling is better than the feeling you get when it is time to relax, unwind, and be yourself.

You've worked your way past Monday, you've gotten over the hump, and now it's time to get ready for the weekend…and we all Love the Weekend

Weekend Love is a monthly event that goes down every 2nd Friday at Era Art Bar and Lounge, giving Oakland's hard working community a chance to unwind, let loose, dance, and enjoy themselves with beautiful like-minded people. Not only is Weekend Love housed at one of Oakland's most aesthetically focused venues, it features the sounds of DJ Haylow, one of the best DJs that the Bay Area has to offer, playing club classics including Hip Hop, R&B, Funk, Soul, 80s, 70s and much more. You are sure to enjoy this event, as it will become your new monthly destination.

The work week becomes much easier when you know that you have something to look forward to at the end of the week. Come to Weekend Love, because you deserve to treat yourself.
Hey Girl Hey: a party for women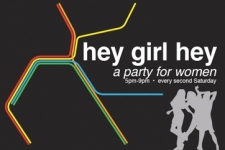 Saturday 12/14/13
5:00pm to 9:00pm
It's a " HGH girls tea dance & Speed Dating" Party every second Saturday 5 - 9 pm.
Era Art Bar and Lounge Presents:TRENDS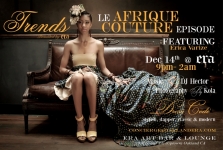 Saturday 12/14/13
9:00pm to 1:30am
Oakland ERA presents TRENDS...

Trends is designed to celebrate Bay Area Fashion innovators in a beautiful atmosphere with dynamic and inspired people, as you partake in a night of fashion, art, and good music.

As always, there will be a live Photo Shoot by resident photographer Kola Shobo of Kay S. Jay Photography

Music will be supplied by resident DJ Hector (Voted best DJ in the East Bay)... Spinning your favorite R&B, Soul, Hiphop, Dancehall Reggae, World music, Soulful House. With a special Tribute to Africa DJ set.

Doors open at 9pm.

$10 at the door.

Dress Code: Dress to impress... Creative fashionable attire. (no baseball hats, white tee, or sneakers)

We invite singles, party people, fashionista, designers, photographer, models, makeup artists, hair stylist, art lovers... come enjoy art, fashion, cocktails, and fantastic music as we celebrate Bay area fashion TRENDS!!

This is a 21 & over event and is security enforced.
Era Member Appreciation Cocktail Tasting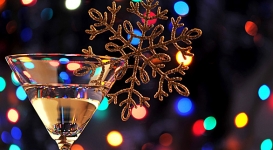 Friday 12/20/13
6:00pm to 9:00pm
Era Member Appreciation Cocktail Tasting for the month of December.
SOUL BEAT: Hip-hop, Funk, R&B, Soul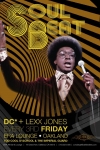 Friday 12/20/13
9:00pm to 1:30am
Come on through for some of the best Soulful feel good music the Bay has to offer with DJ D.C* of KMEL & DJ Lexx!
PLAY - R&B/Hip-hop/Soul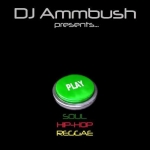 Saturday 12/21/13
9:00pm to 1:30am
Era presents DJ Aambush. A party the way it's supposed to be. No drama, just joy.
Fuzic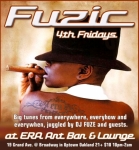 Friday 12/27/13
9:00pm to 1:30am
FUZIC

Every 4th Friday Featuring DJ FUZE of Digital Underground

DJ FUZE has been representing the Oakland Hip-Hop scene since digital underground first dropped their double platinum smash hit, "The Humpty Dance." Since then, he has toured internationally, produced for the iconic Tupac Shakur and platinum Oakland rap duo The Luniz, and worked with performers as diverse as Goapele and Dave Chappelle.

As a selector, DJ FUZE is first and foremost a Hip-Hop DJ, and always brings his mixing and scratching niceness to the DJ booth. And while his sound is firmly rooted in Hip-Hop, R&B, Soul, Disco, and Funk, FUZE has distinguished himself in the last decade by dropping Big Tunes from The Caribbean, Latin America, and Africa throughout his sets.

Please come check out FUZIC on 4th Friday's and vibe off his seamless blend of current / classic Hip-Hop, Soul, Dancehal, Reggae, Soca, Afrobeats, Salsa, Samba, and more!

Live - R&B/Hip-hop/Soul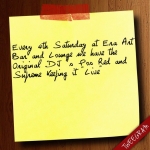 Saturday 12/28/13
9:00pm to 1:30am
'LIVE'
Featuring The Original Dj's
Superstar Pos Red & DJ Supreme
Every 4th Saturday we bring it to you
'LIVE' ..
Good Music, Good Drinks, Good Vibe & Good Times!!
Make plans to join us for another night of all out FUN!!
10pm Doors
$10 Cover All Night
Dress Code In Effect
Era Art Bar and Lounge ... 19 Grand Avenue Oakland Ca.
For Bottle Service contact concierge@oaklandera.com